Landscape & Design
Since the middle 1940s my parents built custom homes, remodeled homes and refurbished apartment buildings, so I grew up learning design, construction and landscaping. I took two years of high school architectural and landscape drawing and another year of university design and landscaping courses to get trained. I worked in the family construction business, plus spent a lot of time reading and learning all I could about landscaping and design. With help from my engineering architect father and artist mother I helped design, build or refurbish and personally did much of the landscape work for dozens of homes. A couple of our high-end homes were featured in Sacramento Magazine and Better Homes and Gardens magazine featured another.

In what is now called middle school, in Kansas I started mowing lawns and shoveling snow for my neighbors. Then, gas powered lawn mowers and snow blowers were rare, so most used push mowers and snow shovels. I talked my father into buying us a gas-powered mower that I repaid him by mowing lawns. I could do four lawns in the time my friends could do just one and my results looked far better. I bought a broken gas-powered lawn mower, rebuilt it, then let a friend use it in trade for half of what he made. He made twice as much as he was making with his push mower and produced a much better job. Soon four of my friends and I were mowing lawns with my mowers. I made enough extra that I was able to buy five gas-powered snow blowers and my crew made good money year-round. In 1964 my family moved to Davis, California a little university town. I had sold off my mowers and snow blowers when we moved, so again started with just one gas-powered lawn mower. I started out just caring for properties, mostly for professors who were away on extended sabbaticals. After redoing a few yards, I was soon buried with requests for re-landscaping. I needed help and frankly found the high school guys unreliable, so asked a friend if he had any reliable farm workers who could help me in the off season. He fixed me up with a Spanish fellow who turned out to be an incredible worker. More, he was related to everyone and already knew who we needed to hire next because they either were very good workers or already had skills we needed. Soon I had eight guys and one gal working for me nearly full time making me the only part timer in the group. We redid the landscaping for about forty homes and were doing the regular landscape maintenance for over fifty homes. Word of mouth kept us growing and the business changed when a friend's father asked me to design, build and landscape four rental homes. These turned out so well I stopped taking on new landscape maintenance in favor of more design and re-landscaping.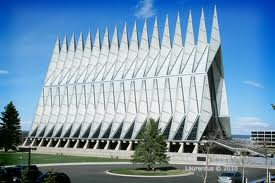 From early on I had a pretty aggressive life plan intending on becoming an astronaut. Unlike most, I was very driven to succeed. I had already gotten my pilot's license and was working my tail off in school to get really good grades plus have the extra activities that made it possible to attend the Air Force Academy. I did well enough I was able to start college at UC Davis when I started my junior year in high school. That left me insanely busy as I was running my gardening business, working early mornings in our family construction business, taking morning classes at UC Davis, and spending my afternoons at high school finishing up my State requirements and being involved in athletics. My plan was to go into biomedical engineering at UC Davis if I did not get my dream appointment to the Air Force Academy. After a year of mixed engineering school with lots of landscaping and home building work, I earned a competitive Congressional nomination to the Air Force Academy. I sold my landscaping firm to Lee Butler who renamed my firm to Butler Landscape. I turned over my crew, trained Lee, his children and his crew before I left. He started with a thriving business taking over the care of my professor homes plus redoing existing landscapes. One of my employees did not like working for Butler, so he opened his own firm and earned his landscaping degree. He became one of the better-known landscape designers in this area.

Sometimes we forget just how small the world is. Butler did an apartment project in Davis for Sacramento developer Robert Powell. Powell liked Butler and used him to landscape his Shelby Ranch, Campus Commons, Wingate, Woodside, Quail Point, and Gold River home developments. When interest rates went crazy in the late seventies, to sell his properties Powell financed the homes himself at a zero percent interest rate, but required a full one third down and five-year payoff. No matter how I did that math this worked for me. I was single, earning two full time salaries between teaching and working for the Governor's Office, and had almost no expenses. In just five years I would own a nice home free and clear and then could bank most of my salary. Hopefully, when the Governor let me go back to teaching, I could live comfortably on my teaching salary. Otherwise there was no way to afford such a nice home with an expensive 17% home mortgage interest rate. In 1979 I committed to buy one of Powell's model homes in Quail Pointe which is on Hazel Avenue in Fair Oaks, CA near the American River. A comedy of errors ended up with the home I bought being sold twice. Having owned three prior Powell homes they asked if I would wait and they would take very good care of me in their soon to be opening new development on what was the old gold dredging rock pile between highway 50, the American River, Sunrise Blvd. and Hazel Ave. With considerable reluctance about living in Rancho Cordova I hesitantly said yes and bought the second home sold in Gold River. Lee Butler still did Powell's landscaping. As the one who helped him get started in business, he said he owed me a huge favor and let me totally design my own landscaping and his crew put it in for me.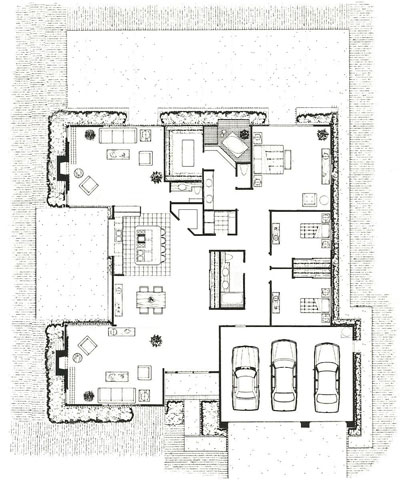 Meanwhile, Robert Powell also really took care of me. They let me redesign one of his homes. After lots of savings, moving up through five homes, and some extra cash from flipping a few homes, I really got to do some serious spoiling. I came up with what became Robert Powell's most popular model. It is a large box shaped home with two legs which creates a U shape that surrounds a nice little patio. This ended up as a very open home where the kitchen, formal dining room, living room and family room are all open and all look out on this center patio. This U shape provides enough isolation that living room and family room activity do not disrupt each other. Both the family room and living room have their own fireplaces, but on my next home I moved the second fireplace into the master bedroom. The bedrooms are on the right of the home next to a big laundry room. The master bedroom is nothing short of decadent. It is huge with lots of light and vaulted ceilings. Its twelve-foot slider steps you right to the hot tub and big back yard. The master bath has an oversized whirlpool tub, separate thick glass walled enclosed shower and of course dual sinks. Off the master bath is a monster walk-in closet with enough built in storage you really don't even need a dresser. The home has a powder room for the family room and shared bath for the two bedrooms again with dual sinks. The kitchen was setup with lots of counters and cabinets, dual dishwashers, a huge island with built in dual sink, range, microwave convection oven, and dual ovens. I also added a huge pantry. I made so many changes that it took so long to finish building my home that in spite of buying second well before the models were even built, I ended up moving in fourth into Gold River well after the models were completed. I also got my choice of lots and picked a huge double wide lot. My plan was to close off the top of the U to enclose the covered patio with a huge play room then put in a Grecian style long swimming pool. I was within just a few months of having that home paid for free and clear when I submitted my plans to make those pretty massive changes plus add the large formal swimming pool.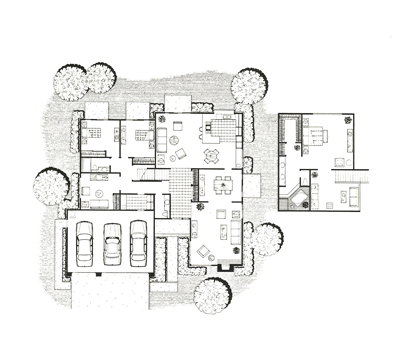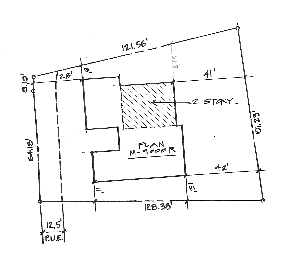 The Powell organization was still using our homes to show how beautiful Gold River can be, so they did not want pool and construction crews making a big mess. As an alternative they offered me one of their new much larger homes with a wide cul-de-sac lot that let me have the room we wanted without having to do any home upgrades, plus the fences were not yet up which would make it easy to drop in the pool of my choice. Lee Butler again let me totally design the landscaping. I really struggled because the new home did not have all the upgrades of our current home. They finally made me an offer I just could not refuse, so I said yes and bought this much larger home keeping our current home as a rental. Just before moving in, I had a minor ankle surgery that went worse than bad. We moved in with all on hold while I struggled to survive a nasty hospital bred staph infection.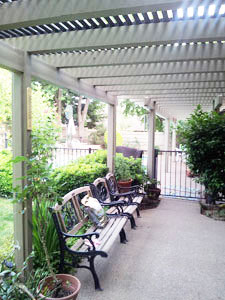 Trapped in bed with my leg held suspended up in the air, I filled lots of time designing an even more ideal backyard. I designed my own pool (see page top) and my own trellis based solar heating system pictured on the right. After calling in lots of favors I found a contractor who would let me serve as the project general manager and he would hire and oversee all of the many sub-contractors needed to build the pool, solar trellis and install all of the landscape features I wanted. When playing golf about a year earlier I played with a Tim and Tony, two brothers who were just getting started doing concrete work. They turned out to be the same pair my pool contractor hired. With a little prodding they talked me into hiring a professional mason to lay in a raised slump stone block wall across the whole back of my yard, blow away all existing concrete pads, and put in all new concrete pads and pool deck using their Arizona plum creek hand seeded aggregate. I had helped out one of my students and saved his family firm from losing everything on their computers. His family owned Matsuda's Landscaping. As a huge thank you for saving them they provided me with all of the trees, bushes, shrubs, and flowers for my yard. Most are pretty interesting exotic plants not readily available.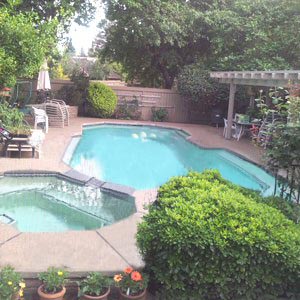 While writing these pages I again got a strong reminder of small our world really is. I've been looking to downsize homes for a while and looked at a nice home in American River Canyon, in Folsom, CA. We looked in the backyard and were stunned to find my same swimming pool. I called my pool contractor friend and he admitted that he used my design with minor modifications dozens of times as it became one of his most popular pools. I half seriously kidded him that I expect a really good deal on my next pool. He admitted that he does owe me big time.

The yard came out so stunning my next-door neighbor, a fairly well to do doctor came over and handed me his lot plans and asked me to design his yard as well. I did and it also came out even better. He made too many children and ended up buying a much larger home and he asked me to design that yard for him as well. The fellow who bought the doctor's first home was the department chair for the CSUS Art Department. We had done a few projects together at CSUS plus my best friend's sister worked for him, so we already knew each other socially. At a party we were talking about his yard and he said that was the main reason they bought that home next to mine. I was a little embarrassed to share I designed that yard. He said he was not surprised because he had seen a couple of the homes I had landscaped in Davis, El Macero and in El Dorado Hills. Not long after he had me work with him to design and be his own contractor to put in a nice pool as well.

So, in summary, I have designed about a dozen homes and landscaped roughly forty homes over the last thirty years. We flipped 14 homes and 255 apartments. Apparently, I did a pretty good job because when I had to take a medical retirement a better-known landscaper offered me a job doing landscaping and pool design for his firm. Another firm asked me to design homes for them. I am right now looking for a new home to let me downsize and still set all up just the way I want, plus am also looking for a home to "flip" into a rental. Both will get my landscaping and design touches.