Airplanes
I caught the airplane bug bad from my father and ended up flying many different planes with many different pilots.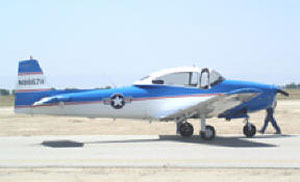 Although a far more conservative flyer than my father he gave me his love for flying and fixing up old things. Almost every time we moved he would buy a big home that needed lots of work, then fix it up and either keep it as a rental or sell. With properties all over the country he wanted an affordable quick way to get to each. My father bought a Ryan Navion that had not flown for years. We quickly restored it with a new engine and paint job to look like the original Air Force version.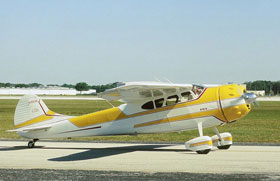 He sold the Navion for a considerable profit which allowed him to buy a Cessna 195 that was one of the few single-engine planes big enough to carry our large family. This plane was near perfect and he bought it from a friend who was getting sent overseas and could not take the plane with him. Although it was fun to fly and let my father keep up with his growing number of rental properties, my father was not happy. He lived to fix and improve things. There was nothing to do on this Cessna except fly it around. Finally, his dream plane became available and he let this plane go so quickly I did not even know it was up for sale.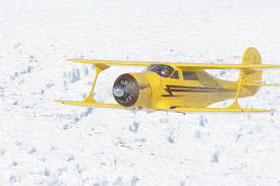 As a young man my father was an airplane "nut" and very avid model builder. His favorite plane was the Beechcraft Staggerwing. Many still consider the Staggerwing one of the finest flying aircraft that has ever been built. It was the "executive aircraft" of that era used to quickly carry up to five adults meaning "important people" in considerable comfort. With its five huge fuel tanks it could stay airborne for more than eight hours. At a real air speed near 240 miles an hour, that gave it a huge range. As one of the last of the bi-planes it had such a light wing loading that it could take off and land on very short fields including aircraft carriers and was very economical to fly. It became the way that top WW II military leaders were flown all over the country, Europe, and the Pacific theater. He had wanted one of these since being a child, plus like the big Cessna it also had room to carry our large family.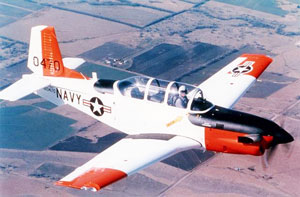 Being a member of a big aero club that had lots of planes was fun. My father loved his Cessna, but found it pretty boring to fly, so he regularly rented different aero club planes. That let me fly in lots of different aircraft. One of his favorites was the T34 WW II trainer that the club had restored. That plane would do magic in the air, especially when flown by a really good pilot such as my father.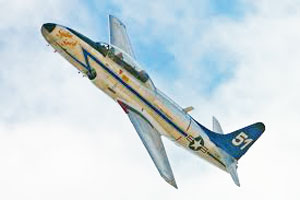 I was getting a little cocky and felt like I could fly anything. My father showed me there was a whole different class of flying. I both fell in love and absolutely hated my time in the little jet T33 Starfire trainer that the aero club had restored. My father did so many tricks in that plane I ended up losing my cookies when we were upside down. He would not turn the plane upright until I cleaned up my mess. I have never liked that kind of flying and frankly feel the same way about roller coasters. Yuck!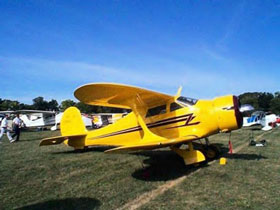 My father found his dream plane, a 1938 Staggerwing hanging in a farmer's barn that had not been flown for years. The farmer bought this surplus WW II Navy plane for very little. In spite of being considered one of the best flying aircraft ever, the Staggerwing is not a happy camper on the ground. When taxiing its small rear wheel and tall landing gear put its big engine right in the way making it impossible to see what is in front of you unless you stick your head out the window. In addition to this leaving you freezing and peppered with bugs and sand thrown back by the propeller, its tall narrow landing gear makes this plane unstable. When taxiing the farmer often lost control in what are called ground loops, meaning spin out of control. The farmer twice ruined propellers so gave up and just hung that inexpensive surplus airplane up. We installed a new propeller, cleaned the bird's nests out of the carburetor and flew it back to our local aero club. There we found the engine was not repairable, the lower wings had some dry rot and rodent damage, and the fabric all over the airplane needed replaced. Under the supervision of our club airframe and power plant inspector, my father used his engineering, carpentry and modeling skills to teach me how to rebuild and recover the wings, plus we rebuilt and installed a whole different, much more efficient engine. We also totally redid the instrument panel bringing all up to current technology and repainted the plane exterior to original factory yellow with black trim. My father was then an instructor pilot for the Strategic Air Command, so had pretty regular hours. At least three or four times a week we would get up far before the sun, preflight, the get in at least two hours of flying before he had to go to work and I had to go to school. I earned my pilots license in that plane before I was even legal to drive.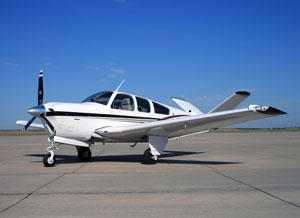 Much to my father's upset, he then got transferred to Japan, so our Staggerwing had to go. He found it a new home and just days before we were to leave for a second tour in Japan, an emergency came up and my father got volunteered to go to Mountain Home, Idaho to make repair. He was there less than six weeks and had just purchased a new home for our family when get got pulled in as head West Coast Controller responsible for the airlift used to supply the Vietnam War. My mother got hired as a professor at UC Davis and my father ended up at Travis AFB. My father helped my uncle start a construction firm in Sacramento and the two of them bought a Beechcraft Bonanza that had been owned by a famous actor. That plane was setup with everything including oxygen, turbo charger, and three-bladed prop so it could fly very high and fast. It was a dream to fly, but was a bit too small for the family.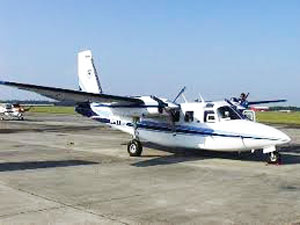 The Bonanza turned into an Aero Commander as pictured on the left, but it had more problems than my father had time to fix, so that turned into a Piper Apache twin that easily carried our whole family.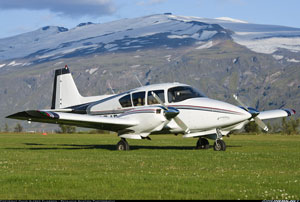 That Piper had sat for a long time and was pretty dated, but there were some amazing conversion kits that gave it a much more streamlined pointed nose and made it fly much faster. My father by that point was running two different family construction firms, managing lots of rental properties, was back into some major developments, and worked as a pretty senior commander in the Air Force. He just did not have the time to make the conversion himself as I am sure he dearly wanted to do. He had this one professionally converted but soon after started losing his sight. No longer able to fly he turned this plane over to my uncle and retired from flying.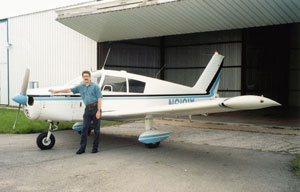 We moved to Davis California and I became a member of the campus aero club. They only had a couple of dated trainers, but one of my physician friends let me fly his Piper Cherokee 140. I flew that for another few years but gave up private flying after my tour in Vietnam.